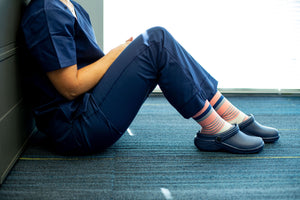 For those whose job keeps them on their feet and moving all day, soreness, stiffness, swelling and pain in the feet and legs can be a very common and frustrating problem. If you are a nurse or medical worker, you most likely spend your entire day running around and on your feet. Especially after a 12 hour shift, your legs and feet usually feel heavy, achy, sore and maybe even painful. However, you can prevent these symptoms from ever happening. This is where compression comes in. Compression helps prevents tired, achy, sore and swollen feet and legs and helps your legs feel energized so you can keep going until the end of your shift.
When choosing compression socks, make sure you are buying medical graduated compression. This will ensure that the compression is working effectively and that you are getting the appropriate level of compression. Graduated compression applies the most pressure at your ankle and gradually decreases as it moves up the leg to help pump blood back up to your heart. When you are standing on your feet all day, the blood can tend to pool in your feet and legs, making it harder to travel back up to the heart. This can cause swelling and the achy feeling in your feet and legs. Compression helps your body pump the blood back up to your heart to prevent these symptoms. This also helps improve your body's overall circulation and promote better health.
Wearing compression is also a great way to prevent leg problems or other conditions from developing. Being on your feet all day puts a lot on your legs, including your veins, arteries and muscles. Improper circulation can also cause problems such as varicose veins, vein conditions, and other health issues. Compression is the perfect way to help prevent these serious conditions and promote better leg and overall health, simply by wearing socks!
Whether you have any of these conditions, want to prevent them, or simply want to prevent that tired, sore and achy feeling after your long shifts, you can find the compression that will work best for you. For those who are on their feet all day, 15-20 mmHg of compression is the recommended everyday compression level. You should only purchase a compression level higher than 20 mmHg if recommended by your doctor. Compression socks are now available in a wide variety of compression levels, styles, lengths and materials so you can find the perfect pair for any need. From knee high, thigh high, pantyhose or leggings, we have a large selection of products so you can find the exact pair you are looking for. Compression socks are also now available in more colors and patterns if you are looking to add a pop of color or fun to your scrubs!
Check out some reviews from other nurses!
"I've been wearing support hose for 20 years at my job as a nurse working 12+ hours 3 days a week. They make my legs feel better and less fatigued. I was happy to find this product. The fit and support are great!" -Melissa H.
"Jobst stockings are the best! I wear them to work (I'm a nurse practitioner) and don't come home with swollen ankles." -Kathy A.
"I work as a nurse and really notice a difference when I wear these for my 12 hour shifts. My legs don't throb and my feet feel so much better. I'll need to get a second pair ASAP." -Lindsay M
"Excellent! Working 12 hour nursing shifts my leg muscles were never sore while wearing CEP compression socks. Love them! Ordered 2nd pair and will be ordering a 3rd pair soon!" -Joanne B.
"I'm a nurse and these socks are great! My legs and feet don't throb after a long day because I wear compression socks. I am always on my feet everyday for a long period of time." -Jenna M.
Here are some of our favorite compression socks to fit any style, length, color or budget!
Looking for a quality compression sock without spending too much? These microfiber Opaque Knee Highs from EvoNation give you all the benefits of medical graduated compression at an affordable cost. The microfiber is soft and comfortable against your skin and the stay up top keeps them in place during long days. They are made with a unique compression knit patterning that creates a durable, long-lasting socks to last through your long shifts.
This men's ribbed sock is made with the ideal thickness so it will go with any shoe, making it a great everyday sock. Graduated compression zone technology applies the optimal pressure right where your body needs it most and prevents tired, sore, achy legs. They are also made using durable construction for a longer lasting socks.
If you want to add a pop of color to your scrubs, these Core-Spun Patterned are the perfect sock. Available in seven different patterns and colors, and sizing and styles that work for both men and women, these compression socks offer many options to add a fun statement for your scrubs. Plus, they are made using ultra stretchy and soft yarns to create a super comfortable sock.
Another great graduated compression sock option for those who want some color of pattern, the Sigvaris Microfiber Shades add a fun statement to any pair of scrubs. Sigvaris' unique microfiber material is super soft and provides breathability and moisture management, perfect for long days on your feet. Available in 13 different colors and patterns, you can find the style that is perfect for you!
The Medi Comfort line combines medical graduated compression with added benefits to create the ultimate compression sock. They include a Comfi-Foot anatomically knit heel and toe box to fit a wide range of foot sizes, Clima Comfort patented technique for better moisture and temperature control, and Clima Fresh to help prevent odors. With an incredibly soft, comfortable and universal design, this line goes great with anything. Available in knee high, thigh high and pantyhose.