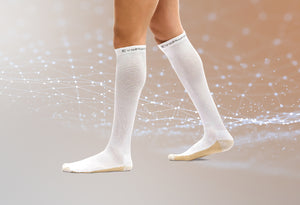 You may have seen copper or silver compression socks, or read a product description where the socks contained copper or silver. Why should you wear socks with copper or silver in them? These materials actually play a big role in the function of your socks and provide many health benefits.
Copper Socks
Copper is an essential element that aids in your overall health. We need this material for basic functions, and it provides many different health benefits. It was one of the first materials used to heal infections and other medical issues. Copper naturally contains antimicrobial properties. These natural characteristics help fight bacteria and infections, heal wounds, and prevent the growth of new bacteria. Because of these amazing properties, copper is sometimes used in socks. Copper socks contain tiny ions of copper embedded into the fabric. Weaving copper into socks helps promote better overall health and keep your feet clean. Our feet can be very prone to sweat, bacteria growth, sores, or infections. Copper helps fight bacteria, eliminate odor caused by sweat, and keep your feet clean and healthy. The odor-fighting properties are especially powerful to keep your feet smelling fresh and clean, even during extended wear, long physical activity, or hot and sweaty days. Copper also helps wounds heal more quickly, which can be especially great for any irritating blisters or sores that you have on your feet.
Silver Socks
Similar to copper, silver is also known for its antibacterial properties. Silver was another early material used to treat infections and wounds. Silver functions similar to copper by eliminating odor-causing bacteria from sweat and keeping your skin clean. Socks made with silver include tiny particles of silver woven into the fabric. Silver naturally contains antimicrobial properties that help prevent the growth of bacteria. By eliminating bacteria growth, they also prevent odor, keeping your feet smelling clean and fresh. The antibacterial properties in silver help regulate temperature by wicking away any sweat, and eliminate bacteria and odor caused by sweat. Silver also helps prevent infections, and heal sores and infections more quickly.
Bacteria can grow in warm, humid conditions. Due to sweat, warm temperatures, and other conditions, our feet are highly susceptible to these bacteria. While copper and silver socks are beneficial for everyday wear, the antibacterial and antimicrobial properties are especially great for athletic wear or physical activity. During physical exercise, your feet are prone to sweat more. The copper and silver ions help prevent bacteria growth while also keeping your feet smelling clean, even during long hours or sweaty workouts. If you have sweaty feet or your feet sweat easily in warmer temperatures, wearing copper of silver compression socks are a great way to ensure that your feet stay clean, healthy, and will still smell great throughout the entire day.
Compression socks embedded with copper or silver combine the antimicrobial, antibacterial, and odor-fighting benefits with all of the benefits of compression for incredibly healthy legs. Not only will your feet and legs be clean, sweat and odor free, but you'll also have improved circulation, reduced swelling, and prevent tired, achy legs. You'll also be fighting any bacteria and preventing sores or infections. Wearing copper or silver socks is a great way to promote better foot and overall health, just by wearing your everyday socks.
Here are some of our favorite copper and silver compression socks!
This pair from EvoNation is the ultimate compression sock to keep your feet and legs clean and healthy. They are made with copper infused soles, Hydrotec moisture wicking technology, and Microban antimicrobial protection to ensure that your feet stay clean, healthy, and sweat and odor free. Not only will they keep your feet clean and healthy, they are also incredibly soft and comfortable. Made with a reciprocated heel, seamless toe closure, cushioned footbed, and Comfort Channels, they offer superior comfort. With 15-20 mmHg compression, they improve circulation, reduce muscle soreness, and prevent tired, achy legs.
Made with X-Static silver, these Juzo Silver Sole socks provide the natural antimicrobial and anti-odor benefits of silver to keep your feet clean and smelling great. The unique X-Static silver prevents against microbial growth on the socks to fight bacteria and retain the structure of the socks. Plus, they are also made with a unique pillowed sole that reduces blisters or callouses and provides comfort so you can walk all day. Made with 12-16 mmHg compression, this pair is a great lighter compression level that is perfect for everyday wear. Available in knee high, crew, low cut, and ankle lengths.
If you are looking for the benefits of silver but need a higher level of compression or more coverage, this pair from Juzo is the perfect option. The Juzo Soft Silver Thigh High includes silver woven into the fabric to provide antimicrobial and anti-odor benefits. Silver also helps regulate temperature, which can be especially great when wearing longer garments. 20-30 mmHg compression helps with varicose veins, mild edema, DVT, and helps prevent tired, achy legs. Also available in 30-40 mmHg Thigh High and 20-30 mmHg and 30-40 mmHg Knee High.
If you are diabetic, you know the importance of proper foot health and care. This pair from SmartKnit is the ultimate way to keep your feet clean and healthy, while also staying comfortable. the antimicrobial and antibacterial properties of X-Static silver fibers help wick away moisture, eliminate odor caused by sweat, and fight against bacteria. These socks are also 100% seamless to prevent blisters or rubbing and are made with a non-binding Halo Top to prevent indentations or digging. Available in mini-crew, crew, and over the calf.