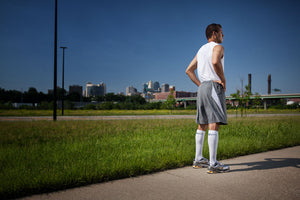 Going for more walks lately? Us too! My afternoon walk is one the highlights of my day now. Wearing compression socks for every walk keeps my legs feeling light and energized, so I can walk further and still feel ready to go out the next day too. Graduated compression helps improve your circulation, pushing blood from your ankles and calves back up to your heart for fresh oxygen. This fresh oxygenated blood helps endurance and performance while you're exercising (giving you the extra energy to walk a few blocks further than the day before). Compression socks also help push the lactic acid out of your muscles, which then reduces muscle soreness. Lastly, compression socks reduce injury risk by adding stability and supporting your joints.
After many a walk, I have some tips for choosing the best walking socks. Here are 4 things you should look for when you're selecting your socks:
1. Cushioned Foot: While you're racking up the miles, you want to make sure you reduce the impact to the bottom of your feet. Wearing something with a cushioned foot bed helps soften the blow of each step.
The Jobst Activewear Socks are my favorite for when my feet are feeling a little sensitive. The footbed provides a lot of cushion, plus a seamless toe - so there's no chance of irritation or blisters.
2. Arch Support: If you have high arches or occasional foot pain in your arches, you can definitely benefit from some stabilization and support at your arch. Usually this consists of a tighter band of fabric at the height of your arch that wraps around the foot. Like a good shoe insole, it provides you support and comfort as you walk.
The CEP brand incorporates arch support in all of their socks, so it's a great brand to start with. These socks are extremely technical - designed for athletes, but great for people like me (the occasional exerciser!).
3. Moisture-Wicking, Breathable Material: I know, wearing knee high socks does not sound super appealing as the summer wears on, but you can pick out a product that has breathable material that won't heat you up! Look for cotton, wool (yes, wool is actually thermo-regulating), and new high-tech materials like CoolMax.
My breathable picks include: Sigvaris Merino Outdoor Socks (read the reviews - wool is great!), TheraSport made with CoolMax, and the Sigvaris Calf Sleeves (made with a thin, super breathable material).
4. Graduated Compression: Choosing the correct compression really depends on what your body needs! If you haven't worn compression before, we recommend that you stick to the 15-20 mmHg level. Many runners prefer the 20-30 mmhg compression level, but we suggest you just wear this while you're walking and change to a 15-20 mmHg when you get home. The higher level is great for performance or if you have a venous or lymphatic condition that requires a stronger compression. Athletic socks are available in 15-20, 20-30 and 30-40 mmHg, so you can find a sock that fits your daily needs.